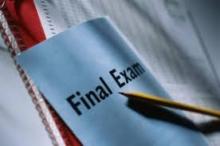 Schedule for the Week of Jan. 21st - 25th:
January 20th - Classes as normal
January 21st - Period One Final at 9AM
January 22nd - Period Two Final at 9AM and Period Three Final at 1 PM
January 23rd - Period Four Final at 9AM
January 24th - Period Five Final at 9AM
City Bus Special #8 - Neighborhood AM Pickup will be at the same time. For January 22nd, the bus will run home at it's regular time. For the 21st, 23rd, and 24th, the Bus home will be leaving the school around 12 PM.
CRP Schedule: